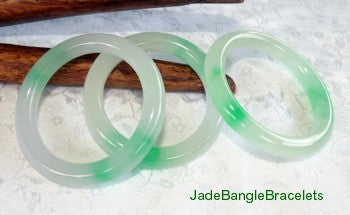 JadeBangleBracelets
Clearance-Translucent Classic Round Jadeite Baby Bangle Bracelet 38mm (JBB3109)
Sale price
$ 50.00
Regular price
$ 88.00
Special purchase small classic round jadeite baby bangle bracelet 38mm inside diameter, 7.5mm thick.
Carved from the same jade stone, each is slightly different.  They are white jade with apple green veins, very traditional color and style for babies and little children in China.  Price is for one (1).
 Good to Know: This jade bangle bracelet is genuine Burmese jadeite tested by refraction. . Due to the composition and natural properties of mined gemstones, the product image may show slight differences to the actual stone stone in color saturation, tone, hue. Gemstones like jade are sometimes treated to enhance their natural beauty.
Regular clearance price $50
---
More from this collection